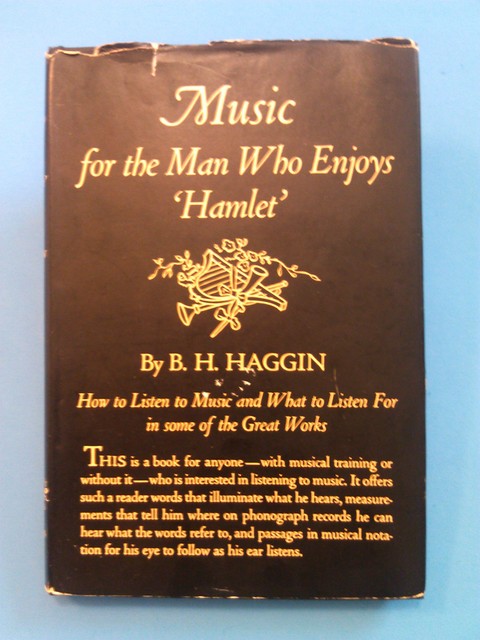 One of the books on Ireland's shelves was the curiously-named Music for the man who enjoys Hamlet, by R.H. Haggin. Haggin starts from the premise that Hamlet is the deepest expression of poetic feeling and explores the idea that those who appreciate the play can go on to appreciate music. Haggin centres his ambitious little book on Beethoven, and in particular on Opus 111.
It's an interesting attempt to teach listening skills, as reviewed in 1948:
An earlier review of 1945 liked this book very much, particularly for the charm of its presentation: 'Almost never didactic or condescending, he communicates simply and persuasively his sane enthusiasm of wide experience to arouse the latent response of the intelligent novice, in a style which suggests a stimulating conversation rather than a lecture'.
Clearly Ireland liked books of this type, as he owned a large number of didactic works on all sorts of musical topics.
Sources:
Reviews: Music for the Man Who Enjoys 'Hamlet' by B. H. Haggin, Music & Letters, Vol. 29, No. 3 (Jul., 1948), pp. 298-299 and by Philip Greeley Clapp, The Kenyon Review, Vol. 7, No. 2 (Spring, 1945), pp. 328-330.