The Grinke Trio (Frederick Grinke, Florence Hooton and Dorothy Manley, with Kendall Taylor taking over as pianist after 1938) gave many performances of Ireland's music, particularly the first two piano trios. On one occasion they took with them to Darlington the Phantasie-Trio, performing it in Polam Hall (seen above) alongside works by Beethoven, Schumann and Rachmaninov. A long review of this concert described Manley as producing 'superb quality of tone', loving her 'gossamer-like' pianissimo touch, while Hooton had the 'tone quality and emotional power of the true virtuoso'. Grinke himself made an excellent leader, with 'perfect control over every form of violin technique' (newspaper cutting, no date). A few days later, the group performed Ireland's Second Trio in Farnham, under the auspices of the Bourne Music Club.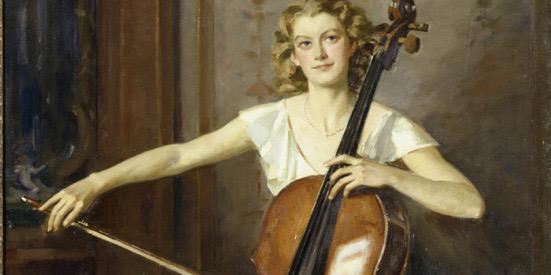 Photographs:
River Skerne looking into Polam Hall grounds © Mark Harrington and licensed for reuse under the Creative Commons Licence.
Florence Hooton by Wilfrid Gabriel de Glehn, 1936, Royal Academy of Music.